As temperatures dip, look no further than your backyard to see how full of life this blustery season truly is! Enjoy over 10 beautiful winter bird photos.
From plump red cardinals huddled along a fence to a sleepy owl with snow-covered feathers, warm up with 10 amazing winter bird photos from Birds & Blooms readers.
PHOTO CREDIT: NELDA FAULKNER (B&B READER)
1. Northern Cardinal
It doesn't often snow in Alabama, but when it does, watch out! This female cardinal was caught in a rare snowstorm here, and I snapped this photo while she waited her turn for seed at the bird feeder. —Nelda Faulkner of Leeds, Alabama
Check out 21 simple tips to attract winter birds.
PHOTO CREDIT: BOB ANDERSON (B&B READER)
2. Mourning Dove
At 7 degrees, it was a cold late afternoon in January. This mourning dove was puffed up as large as possible to retain all the heat it could. —Bob Anderson of Severna Park, Maryland
PHOTO CREDIT: LUCINDA MORIARTY (B&B READER)
3. Eastern Bluebird
Eastern bluebirds are so beautiful and entertaining. My husband and I love feeding them and watching them hop around our rural Connecticut yard. In late February, the bluebirds return from their winter retreats and scout for nests. This male eastern bluebird landed in our kousa dogwood tree after he discovered some dried mealworms waiting for him. —
Lucinda Moriarty of East Hampton, Connecticut
MORE FROM BIRDS AND BLOOMS – ARTICLE CONTINUES BELOW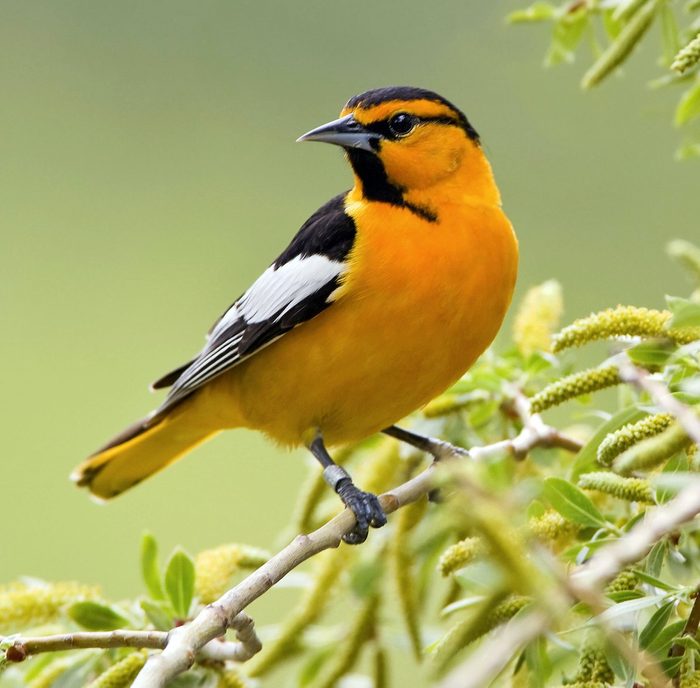 PHOTO CREDIT: DONNA PITTMAN (B&B READER)
4. Mockingbird
All types of birds visited our feeders last winter, and this particular mockingbird stopped by every day. I wanted to get a photo of it, and as I lifted the camera, it turned to look right at me. It seems to be saying, "What are you looking at?" —Donna Pittman of Mountain Home, Arkansas
COURTESY FRED HARWOOD
5. American Robin
Our son-in-law's tree nursery has tons of winter birding opportunities, especially when it comes to bluebirds, cedar waxwings, and American robins like this one. They come to feast on crabapples hanging in clusters from bare branches. I love walking among the nursery trees, watching as hungry birds forage for drying fruits. —Fred Hardwood of Sheffield, Massachusetts
PHOTO CREDIT: MELISSA JONES (B&B READER)
6. Anna's Hummingbird
We had a little snow last winter, and this Anna's hummingbird was still hanging around our backyard. A single snowflake landed on its head. I was so happy to have caught this moment on camera. —Melissa Jones of Longview, Washington
COURTESY JACK DEAN
7. Dark-Eyed Junco
Dark-eyed juncos visit my home state of Kentucky only in wintertime, so this snowy background fits quite well. —Jack Dean of California, Kentucky
PHOTO CREDIT: NINA GRAFF (B&B READER)
8. Black-Capped Chickadee
Black-capped chickadees splashed in tiny bits of melting snow one early spring day on our deck. I wanted to make things easier on them, so I put out a dish of warm water. They really seemed to enjoy their first bath of the season. —Nina Graff of Crystal Falls, Michigan
PHOTO CREDIT: ALYCIA RABY (B&B READER)
9. California Scrub-Jay
Last February, I explored the Prime Desert Woodland Preserve in Lancaster, California. I had gone to the park around sunset to take pictures of the eye-catching Joshua trees. A California scrub-jay landed nearby, and the evening light hit its side perfectly. Sometimes the best photos are lucky accidents. —Alycia Raby of Lancaster, California
PHOTO CREDIT: CINDY SHIOCK (B&B READER)
10. Black-Capped Chickadee
I snapped this black-capped chickadee stopping for a snack during one of the snowiest days last winter. When the weather is so brisk, it's hard to keep the pinecone feeders full! I think my backyard birds are grateful for the tasty treats. —Cindy Shiock of Reynoldsville, Pennsylvania
PHOTO CREDIT: LUCIAN PARSHALL (B&B READER)